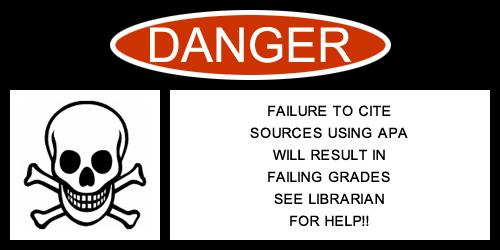 APA Quiz - test your knowledge of 6th edition APA
---
APA Formatting and Style Guide from the OWL at Purdue
FAQ about APA Style from the APA website
The Basics of APA Style (tutorial is 21 minutes long)  produced by APA
Doc Scribe's Guide to Research Style
DOI or not  - When do you use a DOI number and when do you use the URL?? Look at the flowchart on this webpage to help you.
Grammarly - Enter your name, email, and preferred password. Click "Sign up". Please check your email (Inbox and Spam) for and activation email. Follow the link in the email. (For further help see Miranda for sign up instructions)
Guide to Preventing Plagiarism
How to create a different header on each page
Microsoft Office website
NoodleTools
Each user must create a "personal folder" (i.e., select a personal ID and password) by clicking the "Register" button on the login screen. Students will be prompted to log in to their school/library subscription account when they click "Register" on the login screen. If you do not know the school/library account information contact Miranda.
Plagiarism.org --- What is Plagiarism?
Supplemental materials for the 6th edition of the APA Manual
WriteCheck
Avoid plagiarism, improve your writing
Annotated Bibliography
Each instructor has different expectations for annotated bibliographies...please check with your instructor to see what is expected of you. These web sites are meant only as an additional tool to help you understand the basic concepts behind annotated bibliographies.
How to prepare an annotated bibliography  from Cornell University Library Web site
Annotated Bibliographies  from the Owl at Purdue
Samples
Sample Experiment Paper using 6th ed. APA Manual  - This sample paper is from the APA website
APA - How to Paper Excellent Sample Paper and funny too! By Scott W. Plunkett from California State University
Another Sample Experiment Paper  from APA website uses 6th ed.
Sample Meta Analysis Paper  from APA website
Sample Paper using 6th ed.  from the Owl at Purdue