Assessment Information | Assessment Program | College Assessment Report |
Mandatory Standards for Progression - HESI | NCLEX-RN Success Program | Student Responsibilities | Definitions  |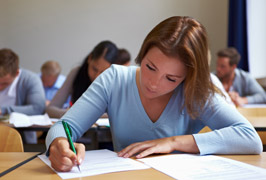 Assessment Information
Student assessment is an ongoing part of the College Assessment Plan. Student participation and input is vital in evaluating individual academic progress, academic programs, and faculty.
Assessment Program
Beginning August 2012, all students enrolled in N210-Foundations of Nursing, and all students admitted thereafter, will utilize the Health Education Systems, Inc. (HESI) assessment products. 
HESI is also an assessment and remediation company that serves schools of nursing nationwide.  HESI assessment and remediation is Internet based, nationally standardized assessments in entrance screening (HESI A2), clinical content mastery, and NCLEX© preparation.  HESI provides skills modules, case studies, drug calculation modules, specialty exams, comprehensive exit examination, computer adaptive testing, and an online NCLEX© review course.
HESI assessments follow the most current NCLEX©  Detailed Test Plans and are similar in content and in format to the licensure examination (NCLEX). HESI proctored assessments will generate detailed diagnostic score reports that help identify areas of content weakness and indicate what the student should study to strengthen knowledge in those areas.  The RN test plan is available for free at:
https://www.ncsbn.org/2013_NCLEX_RN_Detailed_Test_Plan_Candidate.pdf
All Lakeview College of Nursing students must have an active HESI account, and should not create multiple accounts. Students are expected to arrive to test sites prepared to login with the HESI Username and password created.  Students are encouraged to visit the HESI/Evolve websites to review general information, to receive answers to frequently asked questions, to view resources and updates, and to access individual transcript reports. It is a legal violation of HESI, as well as a violation of the LCN Student Code of Conduct, to give or receive information, study guides, and individual transcript reports to anyone prior to or following any test given by Lakeview College of Nursing. In the event that a student misplaces practice codes, this information can be obtained from the Director of Assessment.  If you encounter errors on the HESI/Evolve websites or forget your username and/or password, please contact the Director of Assessment for assistance.
Assessment Materials.  All new students (except RN-BSN completion students) are issued one set of HESI assessment materials when enrolled in N210.  Materials are usually distributed in early fall and spring (watch for important e-mail messages) of the student's first semester of enrollment; students must sign indicating receipt of materials. 
Mandatory Standards for Progression - HESI
The Health Education System, Inc. (HESI) provides a Comprehensive Assessment and Review Program that enriches the student along the learning continuum. The program is comprised of assessments, case studies/patient reviews, pharmacology review, drug calculation modules, and a skills module that work in tandem to aid the student in successful completion of the course material.
HESI is a standardized test that provides feedback regarding mastery of the material taught in this course. All students will be scheduled to complete a proctored HESI specialty exam late in the semester at a pre-scheduled day and time. In addition to course work the student will be responsible for reviewing and learning from the HESI materials provided in order to be adequately prepared for success on this test.
The nursing faculty believes that this formative assessment will systematically strengthen a student's knowledge base as he/she progresses through the nursing curriculum. It is hoped that this approach will help retain students and facilitate success on the NCLEX-RN exam. All students are required to take the HESI exams when scheduled. Failure to comply with the test-taking schedule could result in course failure.
To adhere to the Guidelines and Policies of the HESI Process, the student will:
Take the non-proctored practice exam prior to the scheduled HESI exam week. This non-proctored exam should be utilized to determine your areas of weakness and help formulate a review for the proctored exam.

Weekly NCLEX-style questions (for at least 200 questions total) from a faculty approved source submitted in a folder one week prior to the HESI exam. This is the ticket to enter the proctored exam.

Take the proctored assessment during week fourteen at the designated class time.

Only students who do not achieve a 850 or higher on the first proctored exam will be required and allowed remediate the material and take a second proctored exam during week sixteen of the semester (or week 10 of the summer semester) during designated lab times.  The average of the two proctored exams will be entered as the HESI grade.

The proctored HESI exam is worth 20% of the course grade.  Please refer to the course syllabus for the grading scale.
NCLEX-RN Success Program
Purpose:
To provide an assessment of each student's ability to understand and apply theoretical and clinical knowledge related to baccalaureate nursing curriculum
Allow students to evaluate, understand, and improve their individual strengths and areas for further development
Goal:  Every undergraduate nursing student will matriculate successfully and graduate prepared to enter the professional nursing practice.
Success Plan Guidelines:
All pre-licensure students will participate in the Success Plan.
Mastery exams are secured/proctored exams and only administered in the computer lab under the supervision of a faculty member. Unsecured exams are non-proctored and can be taken from any computer. Non-proctored exams can be taken an unlimited number of times.
Students are required to take each mastery exam as scheduled for the academic year. Exams are administered during scheduled computer lab hours. The required hours for testing will vary and may be outside of the schedule class and clinical times.
Students may only take one mastery level exam per day.  These exam dates will be provided the first week of semester.
All students that fail to pass their designated success plan exam at the established benchmark on the first attempt are required to research each of the "topics to review."   Any student who is unable to access this information should contact the Director of Assessment.
Each student must present evidence that the self-remediation process was completed prior to attending a review session and prior to retesting.   Creating a "focused review" will expedite this self – remediation process.
Students are expected to comply with all success plan guidelines in order to progress from semester to semester at the College. All students are required to maintain academic integrity for all success plan testing. Failure to do so will result in referral to the Student Affairs Committee.
Paperwork pertaining to N.C.L.E.X. testing will not be signed and mailed from the College until the student successfully achieves the established benchmark for graduation. Should the student not achieve the benchmark, an individualized remediation program will be initiated until the student can demonstrate NCLEX readiness.
Test Taking Strategies:
Test taking skills are those skills not only connected to the knowledge of the subject matter, but include the individual's attitude and approach towards taking a test. The acquisition of new knowledge requires test taking. There are two main factors that contribute to successful test scores: preparation and test taking strategies.
Student Responsibilities
To adhere to the Guidelines and Policies of the HESI Process, the student will:
Take Specific Course Proctored Assessment
Present a copy of a non-proctored assessment with a score of >90% as a ticket to take the scheduled HESI proctored exam.
Take the proctored assessment.
Students need to review topics missed on HESI exams and create a remediation package through HESI testing to review the content missed on the proctored exam. 
Develop a plan for remediation: which may include, but is not limited to use of: Evolve resources, course textbooks, NCLEX-RN library resources.
Clarify the significance of your results and plan for remediation by meeting with your course coordinator, clinical instructor, mentor, or academic advisor. Students will leave meeting with a list of goals and an individualized plan for remediation.
Take Non-Proctored Assessments
First, review individual results of the Proctored Assessment to identify specific weak areas (i.e.:  topics to review, outcomes, and NCLEX-RN Blueprint which requires remediation).
For identified areas needing remediation:

Review Content Mastery Module Booklets, focused reviews, and skill modules.
Review course textbooks, course materials, and applicable media materials.
Meet with course coordinator and/or clinical instructor.
Take focused questions from NCLEX-RN 3500 available through LCN.
Seek faculty guidance (during office hours) for further clarification of content as needed.

Internet-based Non-Proctored testing may be done repeatedly as a mechanism to ensure level of competency and mastery of content.
Non-Proctored testing should be repeated until a 90% correct or better score is achieved in order for the student to be successful at the time of final.  (The student must wait 48 hours between attempts if 90% is not achieved.)
Submit a "Student Transcript" to the course coordinator/clinical instructor as the "ticket" to take the final exam.
DEFINITIONS
Proctored Assessments
A scheduled, timed test administered in the computer lab with an instructor supervising. Proctored test codes will be provided during login process.
Non-Proctored Assessments
Non-proctored assessments are available with unlimited access. These may be taken from home without instructor supervision, at your convenience, using practice codes provided.
NCLEX Blueprint Information
On each individual performance profile report, is a listing indicating student individual score pertaining to the current NCLEX-RN blueprint.  Students are encouraged to note this information.
Remediation Tests
A practice test available with unlimited access. Students are required to remediate to a score of >90% by date designated in e-mail announcements. Remediation codes are also called "practice codes" but are different from those used for practice tests.
Remediation Scores
After completing the above remediation measures, students will take (and possibly retake) the Non-Proctored/Unsecured assessments until obtaining a 90% score.
Review Modules/Content Mastery Series
Soft-covered booklets which are unit-based, teaching guides covering nursing topics via concise summaries and key concepts in the format of: critical thinking exercises using a case study approach, open-ended questions with rationales for clinical decisions, and clinical application scenarios.
RN Comprehensive Predictor
A comprehensive assessment written directly from the most recent NCLEX blueprint that evaluates the student's preparedness for the NCLEX-RN and directs student's remediation efforts in areas of identified weaknesses.  This assessment also provides national percentile rankings and "cut score" information.
Percentage Score
Number of items answered correctly divided by the total number possible. A student must achieve a percentage of 90 in non-proctored assessments during the remediation phase.
College Assessment Report