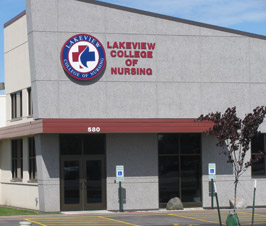 Facilities
The Lakeview College of Nursing in Charleston may utilize any of the public buildings on the Eastern Illinois University Campus. Courses may be scheduled within the LCN classroom located at 580 W. Lincoln in Charleston, IL in the Education Center of Sarah Bush Hospital in Mattoon, or within the EIU Campus buildings. (For more information about the buildings on the LCNEIU campus, please visit www.eiu.edu.) Additionally, Lakeview students on campus at EIU utilize two separate nursing arts labs: one within the EIU Health Services Building and another within blocks of the EIU Campus at 580 W. Lincoln Ave. in Charleston. Students also have access to the Booth Library, Health Services, Counseling Services, the Student Recreation Center, the Student Union, and computer labs.
Directions
580 W. Lincoln Avenue
Charleston, IL 61920
Google Maps to Charleston campus

Charleston (Eastern Illinois University): Eastern Illinois University can be accessed through exit 190A on Interstate 57. From I-57, follow Route 16 east for approximately 7 miles. Route 16 becomes Lincoln Avenue when you reach Charleston. You will find EIU on Lincoln Avenue where you will see Old Main, which is the northern most point of campus.
Lakeview - Charleston Campus (Nursing Skills Lab/Classroom Facility): Find us approximately 8 blocks west of the Eastern Illinois University Campus on State Highway IL-16 (which is also called Lincoln Ave.).  The Lakeview Lab will be on the left side of the street when heading west.  The Lab is about 10 miles east of I-57.  It will be on the right side of the street when heading east.  We are located directly across the street from The Bank of Charleston.
Hours of Operation
The Charleston Campus is staffed Monday through Thursday between the hours of 8:30 am and 5 pm.  The building will only be opened during class time on Fridays.  Please call 217-345-1575 if unsure of Friday course schedule.  If changes occur to this schedule, they will be posted on the main entrance of the Charleston Campus.