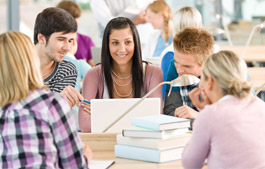 All students who are members of the Lakeview College of Nursing student body can participate as a member or an elected officer in student government. Student government provides a mechanism for students to raise issues, transact business, and aid in the development of individual responsibility, leadership and participation in the group process. The student body votes at annual elections to select officers and representatives for standing faculty committees. Student-run meetings are held on a regular basis throughout the academic year at each campus.
The Student Government also provides a mechanism for students to raise issues that may need to be aired in the form of the student-faculty "Open Forum". If the issue is of a general nature pertaining to the College, the Dean of Nursing will schedule a meeting time for the Open Forum. The forum facilitates student-faculty/staff dialogue and provides an opportunity for students to vent their feelings and concerns. Information from the forum is communicated to the faculty and/or staff and any feedback or action is reported to students at the next Student Government meeting or sooner.
SGA officers must be full-time students in good standing.
Danville Campus SGA
Mission
"Our mission is to act as a liaison between the students and the faculty.  We want to encourage a positive atmosphere at Lakeview and reach out to the surrounding community."
For questions about SGA or student issues here at Lakeview, e-mail members.
Officers
President - Nick Parks
Vice President - Kelsey Moreland
Secretary - Ashley Malone
Treasurer - Jeff Coborn
Public Relations - Stephanie Ijaola
Historian - Jackeline Moreman
Class Representatives:
Bianca Cotter  bcotter@lakeviewcol.ed
Rafaella Viana   rviana@lakeviewcol.edu
Charleston Campus SGA
Officers
President - Kat Garcia
Vice President - Gareth Miller
Secretary - Cody Meyer
Treasurer - Noe Valdivia
Public Relations - Brandi Rhoads
Historian - Samuel Ross