---
Important Notice/Deadlines | How to Apply for Financial Aid | Financial Aid Eligibility | Using Financial Aid to Pay for Classes | Financial Aid and Withdrawals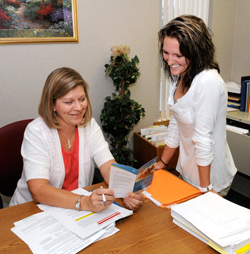 Financial assistance at Lakeview College of Nursing is available in the form of scholarships, grants, and loans. In-depth information and counseling may be obtained from the Financial Aid Office located on the second floor, room 202, of the Danville Campus Building. Office hours are 8 am to 4 pm Monday through Friday.
Important Notice/Deadlines
We encourage you to complete the Free Application for Federal Student Aid (FAFSA) as early as possible each award year. The new Award Year application is available each new calendar year after Oct. 1st.

State Deadlines
The State of Illinois sets a deadline for the Monetary Award Program each Award Year. Please check http://www.fafsa.ed.gov/deadlines.htm for further information.

Institutional Deadlines
Scholarships: This deadline is posted once scholarship applications are made available to the students
Stafford Loan Processing: The last date you can request a Stafford loan for a semester is no later then the mid-term date of each semester.
Verification Deadlines: The Student Aid file must be completed, verified as accurate (and corrected if applicable) no later than the last date of the semester for which student aid is to be applied.
How to Apply for Financial Aid
To be awarded Federal and/or Illinois State student financial aid to attend Lakeview, you will need to be accepted and enrolled into a Degree Program at LCN, have a completed and verified to be accurate Student Aid Report and meet any other criteria designated by the student aid program(s).
Complete the Federal student aid application called the Free Application for Federal Student Aid (FAFSA) via the Internet at www.fafsa.ed.gov. Lakeview's school code is #010501.

The result of the FAFSA is the Student Aid Report (SAR). You will have the opportunity to print and/or review your SAR via the Internet site. We receive an electronic version of this report. The SAR will be used to determine which programs you qualify for and how much aid you will receive. The LCN financial aid office will let you know what additional documents you may need to submit to the office to complete the verification process.

Transfer students seeking aid at Lakeview College of Nursing during an Award Year

You must add the College's Title IV code (010501) to the Student Aid Report via the Internet. You should contact the LCN financial aid office to discuss what awards may be available and the amounts since eligibility for some programs can change from one school to another. It is very important that you let the financial aid office at the school you are transferring from know you are planning to transfer to LCN. They may need to cancel awards that are pending for you for the next term.
Financial Aid Eligibility
Most federal and state financial aid is awarded on the basis of demonstrated financial need. The formula used to determine who has need and who does not is:
Student Budget - Expected Family Contribution = Financial Need
Student Budget is the cost of attending college (tuition, fees, transportation, books, supplies, etc.). Expected Family Contribution is taken from the student's Student Aid Report (SAR).
Financial Need is the maximum dollar amount of aid from the various sources for which the student is eligible.
You will not necessarily receive financial assistance up to the maximum dollar amount for which you maybe eligible and your total aid "package" may not meet your Cost of Attendance.

The various sources of aid have maximum award amounts and may be further affected by limitations in the availability of funds. Loans may be available if grant aid is insufficient. Please inquire at the financial aid office if you need additional funding.

Lakeview College of Nursing's Financial Aid Office verifies all elements of the FAFSA data. You and your family will be requested to provide the documentation concerning the information required on the FAFSA. Your financial aid file will not be completed and student financial aid (that you may qualify for) will not be awarded until all verification is complete. Any instances of conflicting, erroneous or omitted information may require a correction to your FAFSA data. Once corrections are processed and returned you will be updated to any changes in eligibility. It is important that you reply to all requests for verification documentation. Verification must be completed and corrections made (if applicable) before the end of the semester for which you are applying for student aid funds or all "potential" SFA funds will be canceled.

Note: The verification process is not related in any way to the due date of the student's semester billing. It is the student's responsibility to pay their bill by the billing due date to avoid being dropped from classes due to nonpayment. In order to apply student aid funding towards direct educational costs the verification process must be completed and determined accurate and student eligibility determined prior to the billing due date.
Family Status

Applicants answers to certain questions will determine whether they are considered on the Free Application for Federal Student Aid (FAFSA) to be "dependent" (still part of a parent's family unit) or whether they are "independent" (have formed their own family unit). Students are classified according to family unit because federal student aid programs are based on the idea that students, and their parents or spouses (if applicable), have the primary responsibility for paying for their post-secondary education. To be considered "independent," at least one of the following must apply to the student:
turns 24 before January I of the academic year for which aid is sought
is a veteran of the U.S. Armed Forces
is an orphan or ward of the court until age 18
is married has children (for whom they provide over 50% of support)
meets any other status questions on FAFSA as a "Yes"
For students who meet Independent Status due to answering "Yes" to one or more of the FAFSA, Step 3, documentation will be requested. If you have questions of any kind relating to your eligibility for financial aid please telephone or e-mail our office for a prompt response.
Using Financial Aid to Pay for Classes
You may charge college costs (tuition, books, supplies, and certain fees) up to the amount you have been awarded in aid, provided that all financial aid paperwork has been received and processed by the financial aid office. If you do not have all paperwork completed at the time of registration, you will need to make other arrangements for payment and may be required to pay in full. Please be aware that your financial aid is always subject to change without prior notice if changes occur in your enrollment status, class attendance, personal circumstances, or in federal or state guidelines. You are responsible for all college bills not covered by your financial aid. All charges that you incur during a semester that are not covered by financial aid must be paid by you before you will be able to register again. If you have questions of any kind relating to paying your college costs with your financial aid, please telephone or e-mail our office for a prompt response.

Student Fees: All LCN students are charged fees per credit hour. EIU may also bill Lakeview College of Nursing students at the Charleston campus for the additional fees (e.g. parking ticket fees, library fines, etc.) by the individual student.

EIU will charge a late fee for any unpaid balances due them. Look at this information on your EIU bill. You will be dropped from your LCN coursework if your EIU account is unpaid. You must contact the Lakeview Secretary/Cashier/Clerk to make payment arrangements and/or the Financial Aid Administrator to complete the financial aid process.
Financial Aid and Withdrawals
If you withdraw or cease attendance, you may have charges and financial aid adjusted according to the time and circumstances that you cease enrollment. You should refer to the refund schedules, which are published in the current class schedule. If you fail to attend class without officially withdrawing, it may void your financial aid, leaving you responsible for all charges. You must advise the student services office in writing in order to officially withdraw. NOTE: No loan check can be released if it is determined that a student has, in fact, ceased attendance.
Federal Refund Rule (Return of Title IV Funds)

The Department of Education mandates that unearned federal financial aid funds are returned to the specific programs if a student withdraws from a semester. The amount of the refund is determined by the days of the semester that the student was in attendance verses the remaining days (after withdrawal) until the semester ends. Students are notified by mail of their debt to the Department of Education. This debt must be paid in a timely manner in order for the student to receive future financial aid.