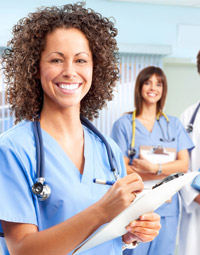 The Alumni Association offers membership to all graduates of Lakeview College of Nursing. The Association aims to foster unity and fellowship among students and graduates of the College and to facilitate its development. Members of the Association also provide assistance with various College activities. All students are encouraged to become active members of the Alumni Association upon graduating.
Annual Alumni Banquet
The next scheduled event will be held
Saturday, June 24, 2017 at The Beef House
located at 16501 N. State Rd. 63, Covington, IN.  
Alumni Association Meetings
These are the next scheduled meetings that will be held at Lakeview's Danville location:
Oct. 3, 2016
Nov. 28, 2016 (Christmas Party)
May 1, 2017 
June 5, 2017
Alumni Survey
If you graduated in the Spring of 2004 or beyond,
please help future graduates be successful with the NCLEX-RN exam.  Take a few moments to complete this
survey
so that we can learn from your experience and share it with future graduates.
Transcript Request
You can request your transcript with
this form
. Transcripts are $10.00. Additional fees may apply depending on what shipping method you choose.
Yearbook Archive
Beginning with the Class of 1921 followed by 1922 then skipping many decades until starting up again in the late 1950s Lakeview students created yearbooks to remember this special time in their lives. We have scanned those yearbooks, which we have in our collection, and posted them to the this website:
https://archive.org/details/lakeviewcollegeofnursing
  If you would like to see all the years on one page, click on Browse Collection. If you have any questions about the collection or website email
library@lakeviewcol.edu