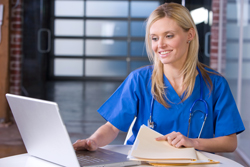 Lakeview College of Nursing currently has openings for the positions listed below.
If you are interested in joining the Lakeview team, please submit a resume' and cover letter to:  Lakeview College of Nursing, Attn: Karlee Thomen, 903 N. Logan Ave., Danville, IL  61832 or kthomen@lakeviewcol.edu. 
---
The Admissions Recruiter will be responsible for the recruitment of students into the nursing program.  He/she will represent Lakeview College of Nursing professionally at high schools, community colleges, and local/regional college fairs.  The position will also work with prospective students and their families during on-campus visits.  Some overnight travel will be required.  
Bachelor's degree preferred. Associate's degree and experience combined will also be considered. 
---
Nursing faculty are expected to deliver class and/or clinical instructions according to an approved course syllabus using accepted and effective teaching methods; advises and tutors students; maintains current and accurate attendance and grade records; remains current in the nursing field; participates in faculty meetings, instructional seminars and in-service training sessions. Participates in school activities such as faculty meetings, student functions, graduation exercises, open houses, and/or new student orientations.
Flexibility in work schedule is necessary. Interest in serving a diverse student population is essential.
Master's in Nursing plus two years of clinical nursing practice required. BSN teaching experience preferred. 
Eligibility for Illinois nursing license required.
---
Resumes always accepted.  The College reserves the right to extend searches or to retract positions advertised. 
The College is an equal opportunity employer.