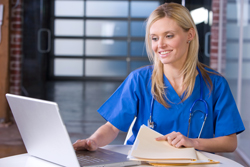 Lakeview College of Nursing currently has openings for the positions listed below.
If you are interested in joining the Lakeview team, please submit a résumé and cover letter to: 
Lakeview College of Nursing
Attn: Karlee Thomen
903 N. Logan Avenue
Danville, IL  61832
or to kthomen@lakeviewcol.edu. 
Employment application form (PDF)
---
Nursing faculty are expected to deliver class and/or clinical instructions according to an approved course syllabus using accepted and effective teaching methods; advises and tutors students; maintains current and accurate attendance and grade records; remains current in the nursing field; participates in faculty meetings, instructional seminars and in-service training sessions. Participates in school activities such as faculty meetings, student functions, graduation exercises, open houses, and/or new student orientations.
Flexibility in work schedule is necessary. Interest in serving a diverse student population is essential.
Master's in Nursing plus two years of clinical nursing practice required. BSN teaching experience preferred. 
Eligibility for Illinois nursing license required.
Résumés always accepted.
---
The Student Account Specialist serves a diverse population of students, parents, staff, faculty, and community members through student accounts and cashiering services, working with a broad array of student service issues, including: student accounts, financial aid, veteran's benefits, etc.  This position operates as the first to interact with customers at the front desk to deliver exceptional service in a professional, efficient and friendly manner.  Associate degree or college course work with an emphasis on business, accounting or relevant office occupations curriculum combined with relevant experience is required.
Please send résumé and application to Karlee Thomen, kthomen@lakeviewcol.edu by September 27, 2019.
---
The College reserves the right to extend searches or to retract positions advertised. 
The College is an equal opportunity employer.